Yesterday, I got a bee in my bonnet and decided I needed two extra heads.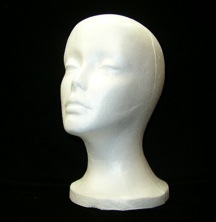 No, really! See, at the trade show next week, I'm showing off two handknitted projects (from the comic book, in case you didn't know), and, well, the project goes on your head.
I would disclose more, but the pattern designer, Erssie, has a contest going on her blog right now to guess the pattern details.
Anyway, I decided yesterday afternoon that what I really need, in order to make a successful show, is not media connections or mailing lists. What I really need, of course, is a couple of extra heads. Why I didn't think of this two months ago, when I vaguely acknowledged that I would need some way to display this item, I don't know.
I need two of them, or possibly three, because the project will be displayed in two locations: my booth, and the What's New table. I don't have oversight over the What's New table, and I've devised a clever idea for how to showcase the comic book without basically leaving a free, walk-off-with-me sample loose on the table. It involves some string, maybe a little glue, and something big enough to be obvious.
So, I determined that I should go get a couple of plastic heads. (What could be more obvious than someone walking off with a comic book glued to a big plastic head?)
Now, think for a moment, about your life. When's the last time you found plastic heads for sale somewhere? But I remembered that there was a wig shop at the outlet mall. I tried to let my fingers do the walking, but no one answered the phone (I hate that– bad customer service). The outlet mall is not too far, so I got in the car and drove over there.
No joy. They sell wire wig stands that look like wig stands. These are not display pieces– they're what you put your hairpiece on at night so you don't get artificial bed-head.
I placed a phone call to my friend Micky. She was the first person I thought of when I thought "I need a head." (Junglemonkey was the second, but only because I realized how much fun she would have with both the quest and the results– maybe I should pick up a couple of extra heads in case she wants some for her art car.)
Micky works in theatre, doing sets and props and all kinds of awesome stuff which largely means she spends a lot of time with paint fumes. If anyone would know about heads, Micky would be it. I called her cell phone, but got voice mail. Which is fine– Micky isn't running a business and doesn't need to provide customer service to friends in search of heads during business hours. Plus, it was about 6:30 in the evening on a Thursday on the East Coast where she lives, so I figured she was prepping for a show.
Here's a paraphrase of my voice mail:
"Hi, um, it's Stephanie. I'm looking for a couple of plastic heads, and you were the very first person I thought of when I realized I have no idea where to find something like that. So, um, if you have any idea where a gal can find two mannequin heads in Las Vegas or San Diego before next Thursday, I would really appreciate it. Um, okay." Then I left my number and hung up.
I went home. I googled. "Mannequin head display retail…" For good measure, on my second or third try, I added "Las Vegas."
I want to point out at this moment that I have SearchSafe turned to moderate, and that the Adult Entertainment Expo is currently in town in Las Vegas, bringing you all manner of unlikely body types to the Strip.
What should have surprised me about my results was the fact that none of the search results were for weird mannequin porn. I mean, really– wouldn't you expect it?
Instead, wouldn't you know, there's a place called Las Vegas Mannequins which rents and sells mannequins. They have a warehouse west of the Strip (which should only take me about an hour to get to… it's 10 miles away). I exchanged a few emails with the owner and am calling them in an hour to see if they have a couple of heads for me. This proves to me the wonder of the Internet, that there is something to meet every need, if you just look a little harder.
And if not? Well, I also found a Craigslist ad near San Diego. Used wig display heads (from retail– they have faces) for $14 each. What a deal!
By the way, if you're also looking for a head, and you're not going to put it on a display where it has to pass close scrutiny, Sally Beauty Supply carries styrofoam heads for about $4 apiece.