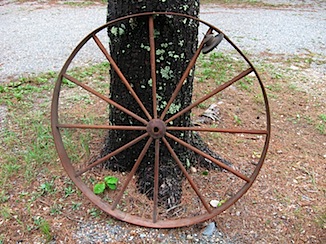 One of the items my grandmother left to me was a spinning wheel. It's a "great wheel" (or walking wheel), slightly more than 3 feet across, and it has the wheel and a gear, but nothing else. The other day, I was able to bring it home in the Jeep– we have absolutely no idea where to keep this, or what to do with it at this time. Its presence will make a trip out to the storage locker in Santa Cruz a bit more urgent, because it can really only be in our home for a few months before we will go nuts tripping over it.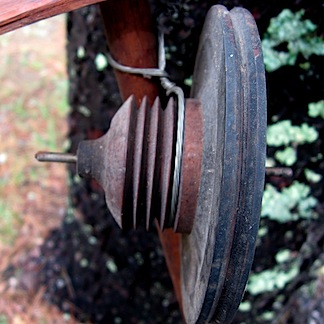 This part, attached to the wheel with wire so they don't get separated and lost, is what spins the spindle.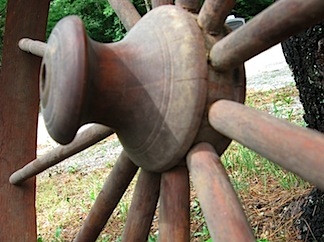 So far as I can tell, this part should go on the frame, which is long gone.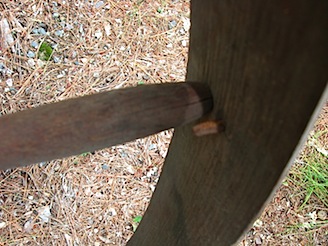 There is some damage to the wheel, but it can be repaired.
I have not been doing much knitting or spinning recently, because I've been focusing on grandma's house and visiting with family. I should bust out the knitting joy, though, since there's no conflict with crafting around my dad or stepmom. Stepmom's a knitter and quilter, and my dad is often cobbling something together (to make a distinction, though, between cobbling stuff together and being a cobbler, which is, in fact, what my uncle his brother is).
At any rate, now on my shopping list are some wood soap for this week, a drive band, some light machine oil for my Lendrum, and maybe the bits and parts I might need to put together a frame and spindle for this great wheel. Or else I need to decide that I don't want this wheel after all, and give it back to go into the auction next week.
Remember: Tomorrow is the tickled elbows blog carnival. Submit your funny posts to share!