I've been knitting on some lace this week. This yellow shawl is from the Blue Jeans Shawl pattern, made with KnitPicks bare laceweight merino yarn, which I dyed myself into the "self-striping" pattern you see here: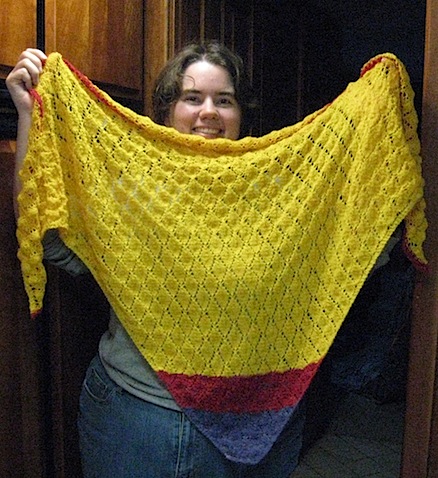 Notice the size of the thing. I haven't blocked it yet, but this shawl is going to be enormous.
I'm also in the Goddess Knits Anniversary Shawl Knit-Along, and clue 1 was released last Friday: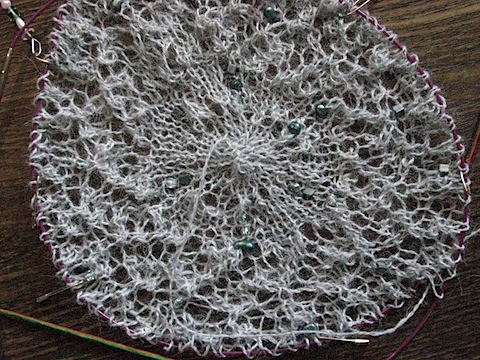 Clue 2 was released this morning. I'm knitting this in light grey alpaca yarn and mixing in various aqua and gray beads. It's actually quite beautiful, but I think it will need to be finished and blocked before its total loveliness is photographable.
No progress on the sweater this week– I'm running into the weight problem– the project is very heavy to hold on my lap (also, I think it's putting a strain on my needles). I may switch to a different set of needles before I keep going.
John and I started watching Weeds last night, and in the first three episodes, I've seen at least three instances of handknitting! Sooo awesome!
Finally, progress on the TKGA project! I re-did swatch #1 completely. I had previously knitted this swatch, but wove the ends in incorrectly, so I frogged for re-knitting. This photo is before I weave in the ends (or block it):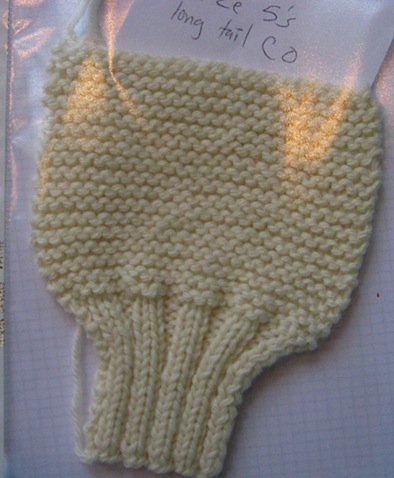 The plan is to block the first 3 swatches once I'm done with them (I still need to re-knit swatch #2).