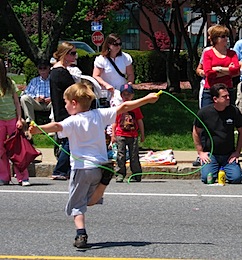 Yesterday, I drove around the little towns outside of Boston (and not far from Norwood, where my grandmother lives), in search of yarn shops. I mainly found myself lost, many times, on country-sized roads cutting through green neighborhoods with a decidedly small town air.
And then, I got to Walpole. Bordering Norwood on Highway 1, Walpole is another one of these "est. before 1776" types of small New England towns. It's only 20 minutes outside of Boston, but the contrast between big city and small town couldn't be more dramatic. This is a pretty town, with lots of greenery and big, old, single family homes. As I drove through the neighborhoods, I saw many weekend gardeners out, enjoying the sunshine and putting in this year's morning glories and zucchini plants.
Walpole has its first deed in the 1640's, with a mine claim. It later hosted a sawmill, and formally separated as a township from nearby Dedham in 1722. The town history is a rich tapestry of community organizations springing up in response to its growth, and new buildings (or restoring old ones) to accommodate students, infrastructure, and civic bodies. The town elections are held in early June, and signs outside the police station proclaim that "It is your civic duty to VOTE!"
I arrived just before noon and parked a few blocks away from my destination, planning to walk. As I approached, I saw the sidewalks lined with people, holding balloons, their hands poised to wave.
"My goodness," I thought. "All these people out to welcome me? What a friendly town!"
Alas, I was disabused of this notion when I asked someone what the hubbub was about. Yesterday was Walpole Day, a kind of founders day/community celebration, to commemorate Walpole…. being Walpole.
The parade kicked off at 12:05, and was inaugurated by the fire trucks, sirens blaring as they rolled up the street.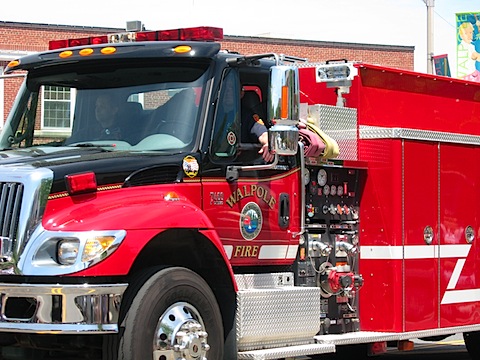 Sports are definitely in high profile in Walpole, and were well represented with school teams, cheerleaders, swimmers, dance groups, and martial arts schools.
Early in the parade, the young Walpole Lacrosse players showed their stuff by running the parade route. I thought this was very ambitious, since no other youth group ran the parade. Not even the two runners clubs.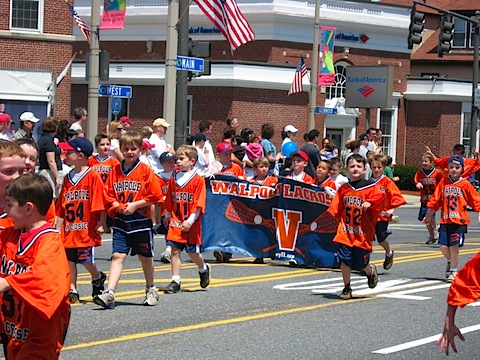 A variety of vehicles drove the route as well, from the old military Jeeps: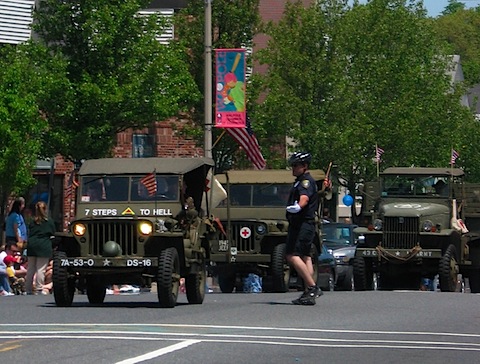 To the even older horse-drawn carriages: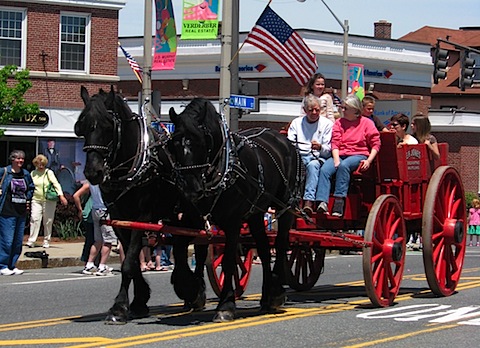 Parade participants threw candy to the kids on the sidelines, politicians walked the route or handed out balloons, and the event ended with a big party and fair down the street behind the bank.
Grandma tells me that Norwood Day is in October. I may have to swing back down, just to see!