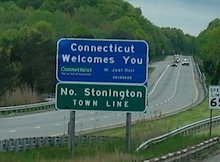 We spent the last 2 weeks outside Boston, visiting my family. John went back to California to take care of some business, and I spent my days working and going to visit my grandmother. I, of course, stupidly brought my camera with me every day, but failed to take pictures when I went, so I only have one pic of my family from the trip: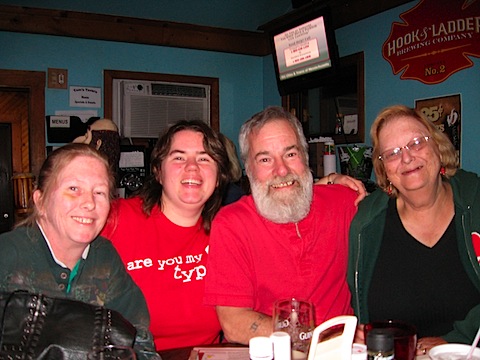 That's my aunt, me, uncle, and second cousin, at a bar last week. Cousin Marion knits, too, and does many other crafty things. She and her husband have been married over 50 years!
On Thursday, we drove from Massachusetts to a town outside New Haven, Connecticut. A close friend of mine from high school is getting married tomorrow, and a bunch of the Evanston crowd are gathering there to celebrate with him and his lovely bride, Karen. The campground we're in is a sidelot with hookups, but it is what it is: a cheap place to stay while visiting people.
And now, I must go shower and get ready to go out. Everyone is arriving this afternoon, and we're all gathering at the happy couple's house to meetup and such.