I recently signed up for the TKGA Master Hand Knitters program, level 1. It's a series of swatches and some research, plus a project. I received my info packet by email last week and ordered yarn over the weekend (you have to use light-colored worsted weight yarn, of which I have none). I also ordered some books for the research part. This enters me into a new phase of my knitterly fun, because not everyone decides to study knitting like this, and that's what is involved in the Master program. You know how to knit, but this is how to knit deliberately, so that every stitch choice is something you understand completely.
Anyway, on Friday I cast on for a pair of Jaywalker socks (they're a zig-zag pattern), but have no photo as yet. I carried the project in a ziplock bag in my coat pocket on Sunday when we went to DC in the rain, so there may be some dampness in the wool.
I also wore my new stripey blue socks that day: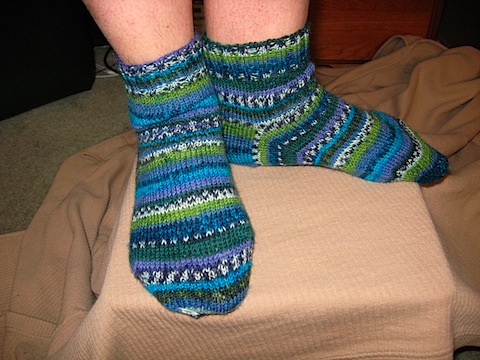 On Saturday, I spent the afternoon dyeing yarn:
This is laceweight. The picture kind of sucks, but it's self-striping laceweight.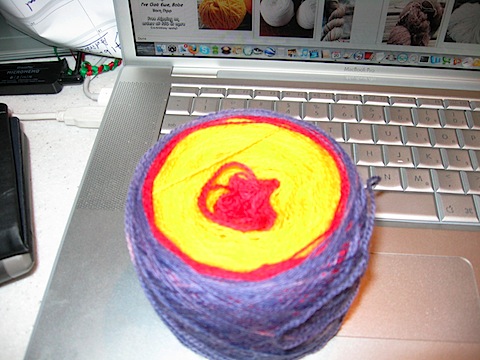 Oh, I know. Why don't I just show you how it looks in progress? Because I could not resist casting on for the Blue Jeans Shawl, even though I already have a lace project on the needles. But the one I'm working on is a long slog– very difficult and demanding, whereas the Blue Jeans Shawl is quick and easy to memorize. I've only done two types of lace in knitting: repetitive projects I can memorize, and difficult complicated projects that require you to pay attention.