I just found this via Google, and wanted to make sure to have some kind of statement here: http://mortaine.deviantart.com/ is not me. One of the first instances of a mortaine who is not-me, online.
In knitting news, I've cast on for the Secret of the Stole project. Here is the first workings: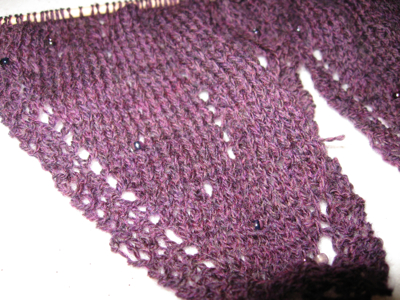 No, I have no idea how it'll turn out. That's why it's a secret!
And this is a sneak peek at the sock for my Hogwarts Sock Swap pal: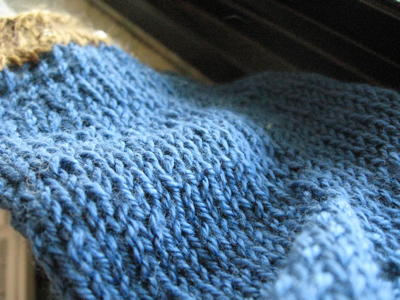 The pair is nearly finished, and I think they look very nice!
I'm ordering a Ravelry.com Beta-tester T-Shirt.
They have three versions. Two of them say "Where My Stitches At?" I ordered the one that says "I Swatched Ravelry." The ad copy for it says "want something more geeky or less girly?" No, Ravelry. I want something written in ENGLISH! I cannot in all conscience pay money for and wear a T-Shirt that says "I buy from companies that think speaking like an illiterate street pimp is a good idea." [I mentioned this in the forums and got back that they think it's cute…. obviously, our opinions differ.]
I should post about the Grand Canyon, or the beautiful sunsets, or the railroad trip we took yesterday. But…. I'll leave that to Johnny, cause he's been wanting to post about it for a couple of days. Instead, I will leave you with this lovely picture he took near sunset in Sedona: